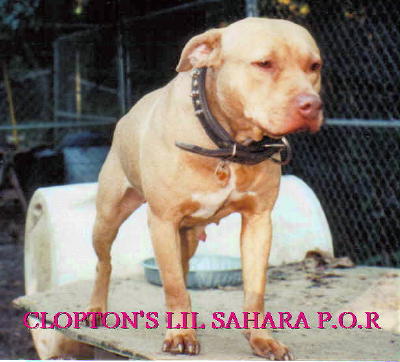 BREEDER: JAMES ALVIN CLOPTON
OWNER: BRAD NELSON
REGISTRATION #: 61800E-81
SEX: FEMALE
COLOR: BUCKSKIN W/ RED NOSE
CHAINWEIGHT: 41 LBS.
BIRTHDATE: 1995-07-08
POSTED: 2001-04-09
LAST MODIFIED: 2006-09-02
PEDIGREE HAS BEEN SEEN: 30953 TIMES

Clopton's Lil' Sahara . Sarah is the best bitch, and the best producing bitch I have ever owned. Sarah has stood the hardest test of all, the test of time and has never once let me down. Sarah has produced 5 litters with winners in every litter.