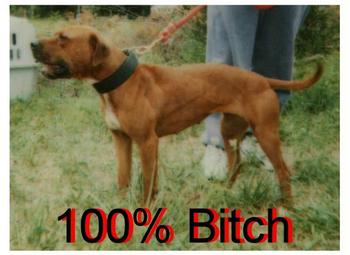 BREEDER: RAY LEWIS & NATURAL BORN
OWNER: C & P DUHON OF INFERNO KNLS
REGISTRATION #: 43900G-41
SEX: FEMALE
COLOR: RED
CHAINWEIGHT: 44LBS
CONDITIONED WEIGHT: 40LBS
BIRTHDATE: 1998-07-01
POSTED: 2001-04-09
LAST MODIFIED: 2001-04-09
PEDIGREE HAS BEEN SEEN: 1637 TIMES

Pattie is a 40lbs female with 35lbs of heart, very agile, has great speed and a brain full of smarts, not to mention a bag of tricks. She was not contracted for a show because she lost her K-9's in her game test. She is owned by Inferno Kennels.