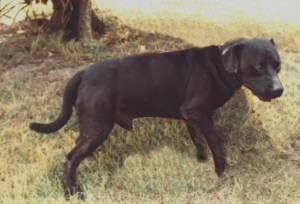 BREEDER: MAURICE CARVER
OWNER: BAKER DAVIS
REGISTRATION #: 4700-85
SEX: MALE
COLOR: BLACK
ENTERED BY: webmaster
POSTED: 2001-04-09
LAST MODIFIED: 2007-08-23
PEDIGREE HAS BEEN SEEN: 402427 TIMES

3 CHAMPIONS,3 GR. CH. OVER 50 WINS DIRECTLY OFF HIM, ALMOST PRODUCING MORE WINS THAN OFFSPRING, WHILE ALSO HOLDING THE ABILITY TO PRODUCE HONEST PRODUCERS.