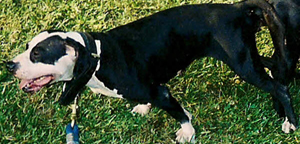 SEX: FEMALE
COLOR: BLACK/WHITE MARKING'S
ENTERED BY: MrMark
POSTED: 2007-04-10
LAST MODIFIED: 2010-01-19
PEDIGREE HAS BEEN SEEN: 44172 TIMES

EXCELLENT PRODUCER! DOUBLE NIECE TO B'S LIL FLOYD ROM. Produced GrCh Gorilla Bear (multiple), GrCh Farrakhan (multiple), Dolemite 1XW, MCC's Littleman POR, R.Smith's Zena ROM/POR and many others as well. RIP 12.31.2007.