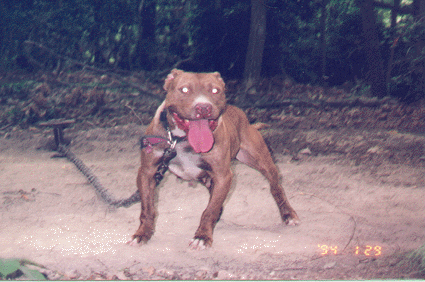 BREEDER: KAMAKAZE KNLS & Thomas Smith
OWNER: NBK & BAK
SEX: FEMALE
COLOR: RED/BRINDLE, Red Nose
CHAINWEIGHT: 50#
CONDITIONED WEIGHT: 44#
BIRTHDATE: 1995-03-10
POSTED: 2001-04-09
LAST MODIFIED: 2004-05-11
PEDIGREE HAS BEEN SEEN: 9101 TIMES

One of the best redboy bitches of our time. Sure to follow the steps of her illustrious sire! Will try to make ROM!!! Can't thank you enough E-roc for this superfine brood bitch.