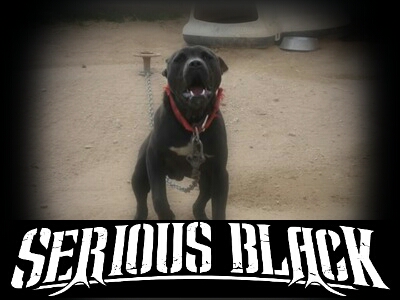 BREEDER: MAAD CIRCLE COMBINE
OWNER: MCC'S NUGGET
REGISTRATION #: 00:33-1:20-00:48
SEX: MALE
COLOR: BLK (SEAL)
CHAINWEIGHT: 54
CONDITIONED WEIGHT: 48,49,50
BIRTHDATE: 2008-07-15
POSTED: 2008-08-07
LAST MODIFIED: 2015-05-20
PEDIGREE HAS BEEN SEEN: 68226 TIMES

#1 DFK'S TUNG PO :33, #2 CH AIN'T NO WAY'S RECESSION 1:20,
#3 430 KENNELS ROSCO :48, HE'S A GANGSTA AND A REAL SMART BULLDOG...


SERIOUS BLK is no longer open to the public @ this time, but He will be bred to those who bring something to the table, that something will add value to our yard...




NO BULLDOGS BRED, RAISED, SOLD, OR USED FOR ILLEGAL ACTIVITY.

FAMILY RAISED, AND GAMENESS PRESERVED BY NON CANINE TO CANINE METHODS.

ALL STORIES AND ACCOUNTS ARE FICTIONAL, SOLELY FOR ENTERTAINMENT PURPOSES!!!