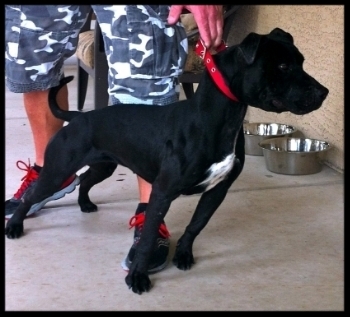 BREEDER: SLICK & RIVAL
OWNER: T-MACK
REGISTRATION #: ADBA/DNA PROFILED
SEX: FEMALE
COLOR: BLACK
CHAINWEIGHT: 38
CONDITIONED WEIGHT: 36.5
POSTED: 2013-02-09
LAST MODIFIED: 2022-06-26
PEDIGREE HAS BEEN SEEN: 36537 TIMES



A PURE ARNOLDO CARDENAS BITCH WITH T-BUD 27X'S & CARDENAS' CH SHORTY 6X'S.
SHE IS A 100% EXAMPLE OF WHAT MAKES A CARDENAS ELI DOG. BOTH SIRE & DAM WERE BRED BY MR. CARDENAS. I AM PROUD TO OWN THIS FINE SPECIMEN. (ONE BAD ASS BITCH!!) DEVASTATING!! WINNER IN 8,50 MIN. BAJA CONVENTION TIJUANA MEXICO.