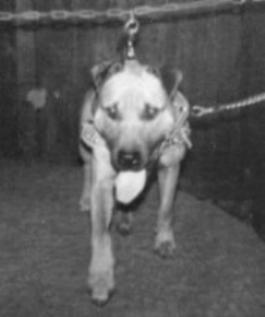 BREEDER: BENNET CLAYTON
OWNER: STINSON & GLOVER
SEX: MALE
COLOR: RED
CHAINWEIGHT: 50LB
CONDITIONED WEIGHT: 43-45LB
POSTED: 2001-04-09
LAST MODIFIED: 2007-09-07
PEDIGREE HAS BEEN SEEN: 306650 TIMES

Littermate to CH Hurt and without a doubt one of the greatest of all times. This 7xw was stolen, as was his grandsire (Eli). Neither was ever recovered. Art wasn't bred very much before being stolen but still produced more worthy dogs than most.